Organic and natural latex has become a popular choice in recent years, as some people look for an alternative to traditional mattresses.
They may be eco-friendly, but how about durability? Do latex mattresses sag over time? And if so, can it be bad for your health?
In this article, I'll explore the truth about beds made from natural latex, and whether or not they sag.
I'll also reveal what to look for (and what to avoid!) when shopping for a new organic latex mattress.
Sag Factor
Some mattresses manufacturers use a sag factor.
This rating of 1-5 (5 being the best) indicates how likely the mattress is to sag over time.
Natural latex is an inherently durable material, but you still need to look after it.
There are many things that can determine how likely your mattress is to sag, most of which are beyond the manufacturer's control...
Factors That Impact The Sag Factor Of Latex Mattresses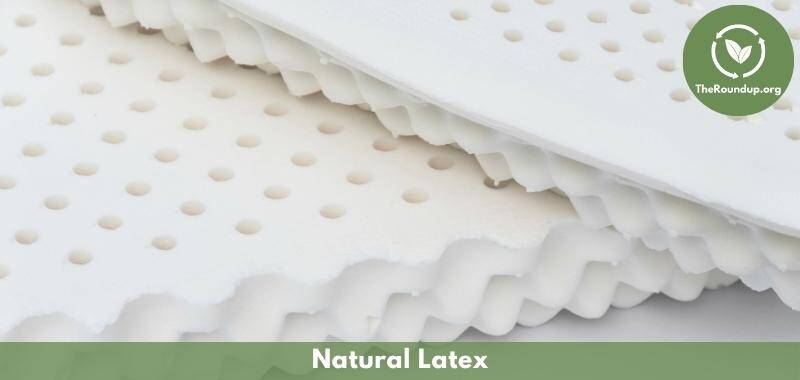 Construction
There are two main types of latex (Talalay and Dunlop).
Dunlop latex is generally considered more sag resistant than Talalay latex.
You can read more about both types of latex in my Are Latex Mattresses Hot Or Cool article.
Any additional construction materials will also impact how likely mattress sagging will occur.
For example, a latex mattress that has a pocketed coil support system is less likely to sag than one with a traditional innerspring system.
Foam Density And Firmness Level
How dense and firm the latex foam is will also affect how likely it is to sag.
A mattress with a softer foam will be more likely to sag than one with a firmer foam.
Weight And Body Type
The weight and body type of the person using the mattress both play a key role in how likely it is to sag.
An overweight person is more likely to cause a mattress to sag than someone of average weight, for example.
Sleeping Styles
Mattress sagging can worsen if you sleep on your side or in a 'spooning' position.
Pets
If large pets sleep on the same spot at the end of your bed every night, that spot will eventually start to sag.
How Sagging Impacts Sleep Quality
Getting the right amount of quality sleep comes with numerous benefits, including:
Increased energy
Reduced inflammation
Lower risk of chronic diseases
Improved mental health
Improved immunity
Lower stress levels
To get these benefits, it's essential to have a mattress that doesn't sag.
Sagging mattresses can disturb sleep in numerous ways.
Increased Pressure Points
A sagging mattress can cause increased pressure points on the body.
This can lead to tossing and turning throughout the night to find a comfortable position.
Muscle Strain
If you sleep on a sagging mattress, you may wake up with muscle strain or pain in your back, neck, and shoulders.
This is because your muscles and spine are not adequately supported, leading to strain and discomfort.
Circulation Issues
A sagging mattress can also cause decreased circulation, as your body is not aligned correctly.
This can lead to numbness or tingling in your extremities.
Increased Noise
If the sagging in your latex mattress is being caused by failing springs, they may start the creak and groan.
This noise can potentially wake you or your partner multiple times during the night.
Hot Sleeping
If your latex mattress is sagging, it can cause you to sleep hot.
This is because there is less airflow around your body, leading to increased body temperature and night sweats.
Decreased Comfort
A sagging mattress is simply less comfortable to sleep on. You may wake up multiple times during the night due to discomfort.
Your Sagging Might Not Actually Be Sagging
New latex mattresses go through a break-in period of between two and eight weeks.
Some small dips and changes to the latex surface might occur during this breaking period. This is normal and not classed as sagging.
However, if it starts to affect the quality of your sleep, you should discuss your concerns with the mattress manufacturer or retailer to see if anything can be done.
How To Stop Sagging
You can do various things to stop your mattress from sagging or slow down the sagging process once you notice it's started.
Rotate Your Mattress
Rotating your mattress from head to toe every few months is essential.
It helps distribute the weight evenly and can slow the sagging process.
Flip Your Mattress Over
If your mattress is double-sided, flipping it over can help to redistribute the weight evenly and keep it from sagging.
This does not apply to all mattresses, though, so check the handbook if you're unsure.
All mattresses can be rotated, but not all mattresses can be flipped. Memory foam mattresses, for example, can only be used with the foam portion at the top.
Invest in a Mattress Topper
If your mattress is starting to sag, a mattress topper can help to add extra support and make it more comfortable.
A topper can also help extend your mattress's life by protecting it from wear and tear.
Use a Mattress Protector
A mattress protector can also help extend your mattress's life by protecting it from spills, stains, and dirt.
Get A Supportive Bed Frame
A supportive frame for your bed is important for all mattresses but is essential for latex mattresses.
A metal or wooden frame with slats helps to distribute the weight evenly and keep the mattress from sagging.
Fill Sagging With Pillows
If your mattress is already sagging, you can try to fill the dip with a pillow.
A small natural pillow the same size as the dip caused by the sagging, held in place by a tight-fitting bamboo sheet, should help rectify the problem.
How Long Until Latex Mattresses Break
Latex mattresses have their pros and cons but they generally have the longest lifespan of all mattress types at 10-20 years,
How does this compare with memory foam mattresses and other mattress types?
Memory Foam Mattress: Organic memory foam mattresses are usually good for seven to ten years.
Hybrid Mattress: Hybrid mattresses are a mix of materials (innerspring, foam, latex, etc.) and usually last between seven and 15 years.
Innerspring Mattress: Innerspring mattresses are usually a cheaper option and should give you between seven and ten years of faithful service.
Air Mattress: Air mattresses are great for camping and unexpected guests. Depending on the levels of use, they can last around five years.
Futon Mattress: Futon mattresses are more durable than air mattresses but can be just as portable. Expect at least ten years from a decent-quality one.
Check The Warranty Length and Small Print
When you're looking at mattresses made from natural and synthetic latex, be sure to check the warranty length and small print.
Some companies offer a 'no sag' guarantee, while others will only cover sagging if it occurs within the first few years of use.
It's important to know what you're covered for in case your mattress does start to sag.
Mattress Disposal
When your mattress has reached the end of its lifespan, you'll need to dispose of it.
The best way to do this is to take it to a local recycling center that accepts mattresses.
If this isn't an option, you can always contact your local waste disposal company to see what other options are available.
Arabella has some excellent thoughts on the subject in her mattress recycling tips article.
Frequently Asked Questions
Will a Natural Latex Mattress Break Down?
Natural latex is biodegradable, so it will eventually deteriorate and break down.
This means when your latex mattress reaches the end of its usable life,  you'll be able to dispose of it responsibly.
Do You Sink Into a Latex Mattress?
No, you won't sink into a latex mattress. The latex foam is too dense for that. You will experience a floating sensation as the mattress contours to your body shape.
How Do I Clean a Latex Mattress?
To clean a latex mattress, simply vacuum it with the upholstery attachment on your vacuum cleaner. You can also spot clean any spills or stains with mild eco-friendly dish soap and a damp cloth.
For deeper cleaning, you can hire a professional mattress cleaning service or follow Arabella's advice here.
Do Natural Latex Mattresses Smell?
Natural latex mattresses have a faint smell when unwrapped, but this should dissipate within a few days.
The smell will last longer in a synthetic latex mattress. This is caused by the chemicals used in the manufacturing process of synthetic latex mattresses off-gassing which can take some time (although these tips can help speed it up).
These chemicals can irritate your skin and respiratory system, so it's best to avoid them by buying an organic mattress if possible.
Is a Latex Mattress Good for People with Allergies?
Yes, 100% organic natural latex mattresses are naturally hypoallergenic, making them a good choice for people with allergies.
What's The Best Way to Store a Natural Latex Mattress?
If you need to store your natural latex mattress for any length of time, make sure to wrap it in a breathable fabric like cotton.
This will prevent the material from trapping moisture and developing mold or mildew.
It's also a good idea to place the mattress on a raised surface off the ground to allow air to circulate around it. You can check out more latex mattress storage tips here.
Can a Mattress Made from 100% Natural Latex Get Bed Bugs?
No, a 100% natural latex mattress cannot get bed bugs. The material is too dense for them to penetrate, and they can't live on the surface of the mattress because latex is naturally antimicrobial.
However, bed bugs can hitch a ride on your clothing or luggage and end up in your bedroom that way. If you think you have bed bugs, you should immediately treat the infected area with an eco-friendly bed bug spray.
Is a Natural Latex Mattress Good for the Elderly?
Yes, a latex mattress is a good choice for the elderly. The material is extremely supportive and can help relieve pressure points that can cause pain.
Additionally, latex mattresses are known for their durability, so they'll last longer than most other types of mattresses.
How Thick Does a Latex Mattress Need to Be?
The thickness of your latex mattress depends on your preferences and needs. If you're looking for a mattress suitable for side sleepers, you'll want a 12"thick mattress.
For stomach sleepers, a mattress around 8" thick should be comfortable. For back sleepers, a mattress between 10" and 12" thick should be comfortable.
The Final Word
So back to the original question: do natural latex mattresses sag?
Yes, latex can sag, but this largely depends on the quality of the mattress and how well it is cared for.
If you're looking for a durable and long-lasting mattress, latex is a great option (it will sag less than a memory foam mattress, for example). However, like all mattresses, latex can sag over time.
To reduce the impact of sagging, ensure that you follow the care tips in this article and my 12 key points listed below:
Choose natural latex ahead of synthetic latex. The best quality natural latex will be certified by respected third-party bodies, such as Global Organic Latex Standard (GOLS) and OEKO-TEX.
Choose Dunlop latex ahead of Talalay latex.
If you prefer the cooling effect of Talalay latex, choose one with a reinforced spring.
Use an appropriate bed frame, foundation, or box spring.
Choose the right level of support for your needs.
Look for a Sag Factor of 4 or 5.
Rotate every few months.
No jumping on the mattress.
Use a mattress topper.
Off-gas for as long as you can before sleeping on your new mattress.
Deep clean once a year.
Use non-toxic bedding made from breathable fabric.
Now that you know the truth about sagging, you can make a more informed decision about whether or not a latex mattress is right for you.
Get In Touch
Have you experienced sagging with a latex mattress? What about memory foam? Do you have any killer hacks to prevent or fix natural latex and memory foam mattress sagging?
Have you already upgraded to organic latex mattresses? Or do you have a different favorite? Drop me a line and let me know.