A common question for parents and grandparents during the holiday season is, "Where do I donate my used toys?" With so many organizations that accept toy donations, it can be hard to know where they all are.
Kids grow out of their toys so fast it's hard to keep up, and with relatives buying new toys on birthdays and holidays, we often end up with a huge surplus of used toys and baby items that we don't know what to do with.
Today I'll be sharing a mega list of local charities, groups and other organizations that are accepting toy donations near you. You'll also learn what types of toys you can donate, and how to prepare them before you hand them over.
Why Donate Your Used Toys & Games?
You might be wondering why you should bother donating your used toys to charity in the first place, especially if there are some good alternatives like Craigslist or Ebay. Fortunately, there are a number of reasons to donate your used games and toys.
First of all, it's the right thing to do.
Each year over half a billion new toys are made specifically for children across America, many of which end up in landfills due to lack of recycling. If you're aiming for a zero waste lifestyle, the last thing you want to do is throw plastic toys in the trash!
Instead of throwing them away, why not donate toys to good causes instead? By handing down your old toys you can reduce waste while making sure that other children and their families can get a lot of joy out of them.
You'll feel great knowing that you haven't contributed to the global plastic waste or e-waste problem, and that you've helped less fortunate children at the same time.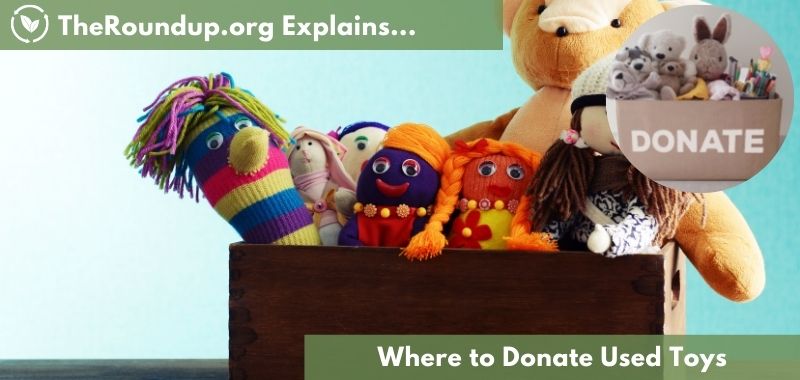 Best Places To Donate Used Toys
Salvation Army
The Salvation Army accepts donations of new and used toys, stuffed animals, clothes, shoes, housewares, electronics and more.
Your donated toys, games and clothes will be sold in Salvation Army thrift stores, allowing low income families to purchase them and give their kids toys they might otherwise never get. The proceeds will be used to fund the charity's work in your local community, and other good causes.
You can find your local Salvation Army location and schedule a free pickup by clicking here.
Goodwill
Goodwill accepts a number of gently-used items for their retail locations. The proceeds go towards providing training and job placement opportunities in your local area.
Donating toys to Goodwill also has a tax benefit. In some cases, they'll provide you with a receipt that you can use as your tax deduction as well!
Find your local Goodwill Donation Center by clicking here.
Toys For Tots
Toys for Tots is a non-profit organization that provides toys to poor or at-risk children around Christmas time. Toys for Tots was started in 1947 and became a registered charity in at the behest of the US Marine Corps. They now distribute 1an average of 8 million toys to 7 million less fortunate children annually.
For each toy donation, a new, unwrapped toy is given to a child who otherwise might not receive one.
You can find your local Toys For Tots drop off location and schedule a donation by clicking here.
Habitat For Humanity
Your local Habitat for Humanity will be happy to accept used games and toys, as well as furniture, household goods and appliances. Free pickup of large items is available.
Your donated toys are sold at their ReStores, with the proceeds going to build affordable housing for local families.
You can find your closest Habitat ReStore by clicking here.
Ronald McDonald House
McDonalds may have a long way to go to be considered eco-friendly, but this charity certainly does a lot of good work.
Each year hundreds of thousands of children end up spending time at Ronald McDonald House locations because they're undergoing critical medical care.
Ronald McDonald House doesn't accept used toys. But if you have any unwanted toys that are new and unopened, then they would be welcomed. If you live near one of their 100+ locations around the USA you can drop off your donations in person.
See the latest wish list here.
Stuffed Animals for Emergencies
Stuffed Animals for Emergencies (SAFE) is a unique charity that accepts stuffed animals and distributes them to children in need. If you wish to donate your used stuffed toys, they'll usually accept them no matter how old or worn out.
As well as new and gently used stuffed animals they also welcome donations of, blankets, books, kids clothes, and baby items.
You can find out more about this charity at their website.
Military Support Groups
You can donate toys to help support military members and their families.
Often military families move around quite a bit, but there isn't always the capacity to move toys and games at the same time. This means that your used games and toys can come in very handy for children in a military family.
They accept all items no matter how worn they are, so don't be afraid to donate even if the toy looks like it's seen better days!
More information can be found on the Operation Homefront website here.
Vietnam Veterans of America
The Vietnam Veterans of America are committed to helping veterans in need. They have several locations around the country where you can donate used games and toys. These donations go directly towards making someone's holiday better, which is a wonderful way to give back during this time of year!
For your nearest VVA location or to schedule a free pickup, click here.
Friends and Family
You can save yourself a lot of time and choose to donate toys directly to your friends or a family member.
Anyone who has younger children than your own will normally be delighted to receive your gently used toys when your kids have finished with them, so theirs can enjoy them as well.
We all know how expensive it is to purchase toys brand new, so helping out those closest to you will often be much appreciated.
Local Hospitals
If your local children's hospital is looking for used games and toys to donate to families this Christmas, consider bringing them some on your next visit. Many hospitals also require toys for their own waiting room, for kids to play with while they wait for an appointment.
Giving back to the community through your local hospital will make you feel good inside, knowing that your donation can help brighten up someone's day when they need it most.
Local Doctor's Office
If you have a doctor's office in your neighborhood, call them up and ask if they accept used games and toys. They may have a family in need who would be grateful for the donation. Or, like hospitals, doctors often have a selection of used toys in their waiting rooms for kids to play with.
If not, you might ask if they'd mind storing it somewhere just in case someone calls to say that they need something for their kids.
Local Churches
Many religious organizations and churches are happy to accept used games, toys and arts & crafts for donation. Call up your local church and ask them if they can help you find a family in need of these items. If not, call the pastor or church secretary to discuss donating them to someone appropriate.
Local Libraries
If your local library is having a book sale, consider donating some of your used games and toys! They're often looking for more toys and children's books to help keep the shelves stocked.
Daycare Centers
Your local daycare center might be a good place to donate used toys. Most daycare centers love to receive used wooden toys in good condition because they are hard wearing and easy to clean. Some also accept baby items!
Second Chance Toys
Second Chance Toys is a unique charity that will accept donations of used technology items for people in need. They are based in New Jersey.
Items which are collected are either reused or recycled, helping to save on landfill space and protect the environment. If you have some old games, toys or consoles that you no longer use then consider donating them! You can find more information at their website.
Children's Homes
Your local children's homes might be another good place to donate your games and toys. Call up the operators of each of them near you and ask what they do with their donations.
Shelters
Your local shelters for the homeless or domestic violence survivors may be a great place to donate your used games and toys. Call up your local shelter and ask them if they accept these donations, as many will.
Foster Programs
If you know of a foster program or shelter in your area, call them up and ask if they accept used games and toys. Often times these kids are in need of some entertainment during the holiday season. Call around to find out who accepts donations (and where), then drop off your items.
Police and Fire Departments
Donating your used games and toys to the local police or fire department may be another good way to give this holiday season. These are wonderful organizations that support our communities, so it's important to help them when we can! Call around to find out where donations are accepted in your area.
Museums
If you've got too many games and toys to handle, why not donate some to the local museum? Museums often accept donations of all kinds - your donations can be put on display for everyone to enjoy! Call around to find out what museums in your area take game and toy donations.
TerraCycle
If you've got old games, toys and other electronics that are still working, consider donating them to TerraCycle. They recycle items into useful consumer goods! For example, they can take your old cell phones and refurbish them before giving them to charity. Find your local recycling service on their website.
Resale Stores
Resale stores often take used games and toys as a form of philanthropy. Many local organizations have annual drives for their resale store so you can donate your items to a good cause, including the Memphis Area Women's Council - call around to find out what organizations or resale stores in your area accept toy donations.
Online Websites
If you can't find any of the above organizations that accept toys in your area, or you really need the extra cash, then consider selling your items online.
Use a local Facebook group, or list your items on Craigslist or eBay. Remember to keep the prices low to encourage more interest. The main priority is making sure you find a new home for your used toys, so they don't end up in landfill!
What Old Toys and Games Can I Donate?
Gently used stuffed animals
Gently used toys and games
Video games
Children's clothes and shoes in good condition
Sports equipment
Different charities and organizations have their own criteria of what items the can and can't accept. I've give some guidelines on this in the list above, as well as a link to the charity website where applicable. So you can find the right home for your stuffed animal, toy or game.
How To Prepare Your Used Toys For Donation
Clean and dry your used toy donations using eco-friendly cleaners before you drop them off. Make sure the toys are free of pet hair, food crumbs or any other debris that could pose a health risk to someone who uses it. Remember that most places will have to follow strict hygiene guidelines, especially during the pandemic.
Wrap each toy individually (using eco-friendly wrappings if they are to be a direct gift to friends or family), so they don't get mixed up with one another during storage and transportation for donation. This is especially helpful if you're donating to a local children's charity.
Box up your toy donations and label each box with the contents (e.g., "Books," "Action Figures," etc). This will help whoever is unpacking and sorting through your donations know what they've got!
Pack things in boxes, (recycled) plastic bins or reusable trash bags to make things easier for the organization that is going to accept your toy donation. If you have a large number of items, consider grouping them together by type (e.g., all books in one box).
If the organization accepts monetary donations, be sure to mark whatever goods you're donating as "a gift". This way, they will know what goods are part of the monetary donation, and they will know what goods they have to buy!
Make sure your donations are clean and working before you drop them off. If a toy isn't working or is broken, consider donating it for parts instead or putting it in a collection - some organizations will accept non-working toys as long as they are in good condition.
Don't overstuff your boxes! Be sure to leave enough room for the toys and games you're donating to be shaken down by the organization without falling out of the box. Make sure any broken pieces can be easily removed from the box as well.
If possible, don't attach anything to your toy donations (e.g., price tags, play sets, stickers that say "donation only") - the organization should be able to sell your toys for whatever they can if they wish!
If you're donating books, make sure they are in good condition and not moldy or mildewed. Also make sure any books with loose pages are stapled together or attached with rubber bands.
The Final Word
Now that you know where to donate used toys, you might want to have a clearout of your kids bedroom or play area and see if there's anything there that they haven't used for a while. While you're purging, consider recycling items in your living room at the same time.
As you can see, there are many places that are accepting donations both locally and nationally, so you have many great opportunities to help out low income families or help raise money for a good cause.
If you need the money, then selling your items online can help you raise a few bucks towards buying a new toy. But don't expect to get anywhere near the retail price.
If they're broken or unusable, then look for recycling programs in your area instead.
Remember that keeping toys out of landfill is the main priority. Plastic pollution is a major issue for the entire planet, and the last thing we want is to make children's items a part of that. They'll never forgive us if we do.
The good news is that with so many other options available these days, there really is no reason to throw anything away.