The blades are some of the largest and heaviest components of a wind turbine.
But just how much does a wind turbine blade weigh? And why is weight such an important factor in their design?
This quick guide will tell you everything you need to know about the weight of wind turbine blades and other components.
How Heavy are Wind Turbine Blades?
Wind turbines have very heavy blades - at least if we are talking about industrial wind turbines.
Here you can compare the rotor diameter and blade weight of two offshore wind turbines. A medium-sized Rampion, and the Bard VM, the world's largest wind turbine (to date).
55m Rampion Offshore Wind Turbine Blades: 12 tons
122m Bard VM Very Large Wind Turbine Blades: 26 tons
In contrast, home wind turbines are comparatively lightweight. The entire unit can weigh less than 65 pounds, with the blade assembly making up only a small portion of that.
What is the Blade Thickness of a Wind Turbine?
The thickness of a wind turbine blade can vary between 2.6mm and 20mm.
A cross-section of a wind turbine blade will reveal it is teardrop shaped, with the flat or sharp edge facing the wind and the rounded edge facing away.
The blades are wider at the root than at the tip, which is more aerodynamic, increases efficiency, and cuts down on noise.
Most wind farms contain larger turbines that require slightly thicker blades.
What is the Weight of a Wind Turbine Gearbox?
Most people overlook the other wind turbine components which can have a significant impact on its overall weight.
The largest offshore wind turbine has a gearbox that weighs 86 tons.
The gearbox is connected to a generator that can weigh as much as 200–320 tons on a 10MW unit.
How Much Does One Wind Turbine Blade Cost?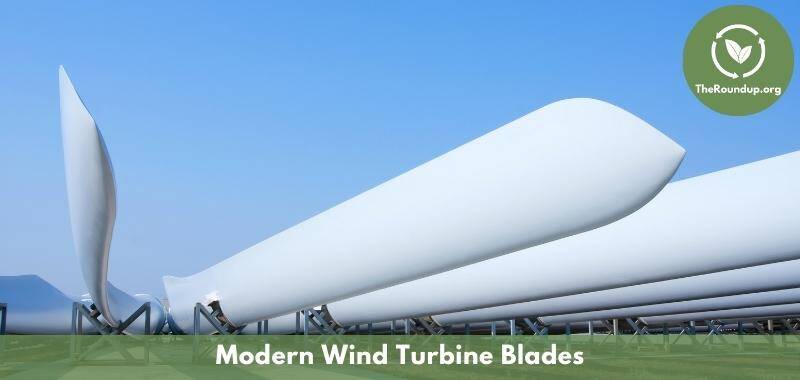 Wind energy is clean and sustainable, but like all electrical energy sources, the setup costs for a wind farm are not cheap.
A typical wind turbine blade can cost around $154,000 (NREL) but this includes the costs of materials, the wind turbine manufacturers' labor costs, and maintenance.
The initial purchase cost is around half of this total, at $73,600.
For larger wind turbines, which require longer blades, the blade cost can increase to as much as $500,000.
Wiley estimates that there are around 3800 wind turbine blade failures each year, which accounts for around 0.54% of all blades in existence.
Dao et al (2019) estimate that the failure rate for offshore wind turbines is 4 times higher than it is for onshore wind turbines, making offshore wind farms more expensive to maintain (although this may be offset by the more consistent wind speed leading to higher output).
However, blades account for only around 1/5 of the total cost of a wind turbine. The wind generators and gears are the most expensive components.
What is the total weight of a single wind turbine?
Because wind turbines come in different sizes, their weight will also vary. So to answer this question, I will give you a few examples ranging from standard onshore installations to large wind turbines typically found in an offshore wind farm site.
Note that the weights for the blade assembly comprise three rotor blades and the hub.
GE 1.5-megawatt wind turbines
Blade Assembly: 36 tons
Nacelle: 56 tons
Tower: 72 tons
Total Weight: 164 tons
Vestas V90 1.5-megawatt wind turbines
Blade Assembly: 75 tons
Nacelle: 40 tons
Tower: 152 tons
Total Weight: 267 tons
Gamesa G87 2.0-megawatt wind turbines
Blade Assembly: 72 tons
Nacelle: 42 tons
Tower: 220 tons
Total Weight: 334 tons
Vestas V164 10-megawatt wind turbines
Blade Assembly: 105 tons
Nacelle: 390 tons
Tower: 200 tons
Total Weight: 695 tons
[Source: AWEO]
Compare these larger turbines with domestic wind power installations and see the enormous scale difference. Even taller wind generators for home use, such as these, can weigh as little as 25kg.
Summary
Wind power technology is evolving all the time, as the world puts more focus and resources into developing clean and renewable energy solutions. Newer wind generators are constantly evolving and work continues to make turbines more powerful and more efficient.
In this article, I have provided size and weight data covering some of the most common wind turbines found today. The figures often surprise people, but the size of a typical rotor blade today might seem small in comparison to what we will see in ten years' time.
Nevertheless, if you do get the chance to visit a wind farm and stand next to one of the larger turbines, I'd highly recommend it. It is the only true way to appreciate their incredible scale.