Do you have a box of old cassette tapes sitting in your closet? If you're like most people, you no longer have any way of playing them, and you probably don't even know what to do with them.
Most of us have some or all of the following lying around our house:
Audio Cassette Tapes
VHS Video Tapes
Computer Data Tapes
But before you throw them away, consider this: cassette tapes are most certainly not biodegradable! So they do not belong in a landfill.
Fortunately, there are actually a few things you can do with those old tapes that won't harm the environment.
Reuse Them
Sell Them
Donate Them
Recycle Them
Today I'll explain why it's so important that we don't throw old cassette tapes in the trash, and give you a range of different options to dispose of them responsibly and free up some much-needed closet space!
But before you do any of that, you might want to keep your old recordings...
How to Keep the Recordings From Your Cassette Tapes
It's been a while since I even saw a cassette tape in the shops. They were superseded by CDs and DVDs long ago, and even these have now been largely replaced by digital media.
However, even if you no longer have the means to listen to your old audio cassette tapes or watch your VHS tapes, you might still have some old music or video recordings on there that you want to keep.
Maybe you have a cassette tape with some of your favorite music on, or some old VHS tapes with important memories such as a wedding video, or your child's first steps?
If that's the case, you should consider transferring those old recordings over to a digital format before you dispose of the physical tapes.
There are a few different ways that you can do this, and most of them are very affordable.
Digital Recording Service
A service like LegacyBox can take any old cassette tape, compact cassette, VHS videotape, or even film roll, and convert it into a digital format for you.
You simply send off the media you want to be converted, and in 6-8 weeks you get back either CDs, a pen drive, or a digital download - you can choose which you want before you order.
They do return your original tapes as well, so you will still need to dispose of them responsibly afterward. Read on for the various options on how to do this.
Prices start from $36 to convert 2 tapes or videos.
This is a great option if you only have a small number of tapes that you want to digitize, because you don't have to buy anything new.
USB Cassette Converter
If you have multiple tapes to convert, you might find it more cost-effective to do it yourself.
One way to digitize your audio cassettes is to use a device called a cassette converter. This special piece of equipment allows you to connect your cassette tapes to your computer and convert the audio recordings into a digital format.
It's not ideal to be buying new electronic hardware for a one-time use though, as that doesn't fit with a zero-waste lifestyle. So although these items are not all that common, it's worth seeing if you can get a second-hand one first.
If you already own a cassette deck, there's no need to buy any new hardware. You can also use a free program like Audacity to do the same thing.
All you need is a computer or laptop with a microphone input port, and a male-to-male cable to connect it with your cassette deck.
Once your audio recordings are in a digital format, you can store them on your computer, or upload them to a cloud storage service like iCloud, Google Drive, or DropBox.
Video Converter
You can also transfer your old VHS tapes to a digital format. To do this you will need to have a VCR to actually play the videos, as well as a device called a video converter.
This is a special piece of hardware that allows you to connect your VHS player to your computer and convert the video recordings into a digital format.
Getting hold of a VCR will probably be the most difficult part of this. The best option is to try to buy one second-hand from eBay, Craigslist, or a local Facebook group.
Again, if you only have a small number of VHS tapes to convert, you might find the whole process is cheaper and easier if you just use LegacyBox.
If you're not interested in transferring your old cassette tapes or VHS tapes to a digital format, there are still a few other things you can do with them.
Reuse, Recycle, Sell Online or Donate?
You might not be able to play your cassette tapes anymore, but there are still plenty of ways you can put them to good use.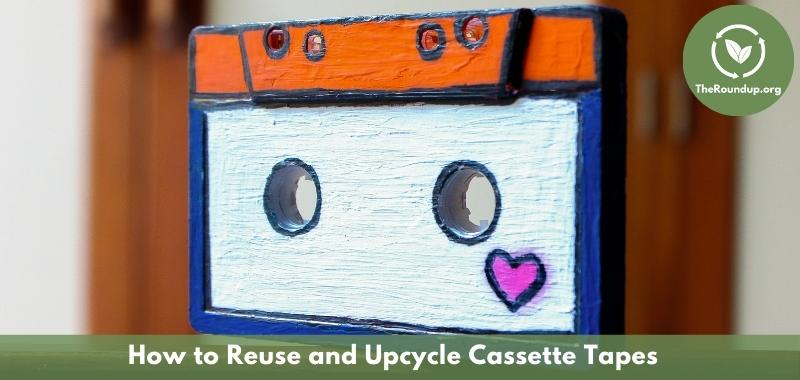 How to Reuse Old Cassette tapes
There are a few different ways that you can reuse your old cassettes, ranging from fun and cool to practical. It's quite easy to give your cassettes a new life.
One way is to use them in your DIY projects. A VHS tape is actually quite useful to hold things like screws, nails, or other small items.
All you need to do is cut a slit in the side of the tape, and then use it like you would a container.
Various people have come up with some interesting craft and upcycling ideas that I really love.
Here are some of the best:
Not only are these recycling and upcycling ideas great fun to try (especially with kids) they also make great gifts, especially for friends who like to remember the good old days!
Another way to reuse your cassette tapes is to use them as packing materials. If you're sending something in the mail, you can pack the cassette tapes inside of the box to help protect the main item from getting damaged.
Just make sure the recipient knows to keep the tapes and reuse them in the same way!
Where to Donate Old Cassette tapes
If you don't want to reuse or recycle your old cassette tapes, you can always donate them to a local charity.
There are a few different charities that might accept cassettes and videotapes. They will then sell them in shops or to collectors, and use the money for good causes.
Try your local Goodwill or the Salvation Army. I recommend you ring them first to make sure they're happy to accept your donation.
Make sure your cassettes are in good working order before you donate. If they're broken, you won't be able to sell them and neither will the charity.
Where to Sell Old Cassette tapes
If you have a lot of old cassette tapes lying around your house, you might want to consider selling them online.
Like a lot of retro stuff, old audio cassette tapes are something of a collector's item these days. And one person's trash is another's treasure. You could end up getting a decent price for your unwanted video or music collection!
One of the most popular websites for selling old cassette tapes is eBay. Just type "cassette tapes" or "WHS tapes" into the search bar, and you'll see a list of all the different tapes that are currently for sale.
This will give you an idea of current prices, and therefore what your collection might be worth.
Another website that you might want to check out is Discogs. This website is specifically for selling vinyl records, CDs, and cassette tapes.
Finally, if you're looking for a more casual way to sell your tapes, you can try Craigslist or Facebook Marketplace. Again, just take a look at what is currently for sale and price your items appropriately.
Whatever your taste in old music of movies, you're sure to find a good home for them somewhere.
Where to Recycle Old Cassette tapes
If you have tapes that are broken and can't be sold or donated, and you don't have the time to upcycle them, then you can look at recycling instead.
The best way to recycle cassette tapes is to take them to a recycling center that specializes in electronics.
They'll be able to properly recycle the tape, including the film inside, and the plastic shell it's housed in.
If there isn't a recycling center near you that specializes in electronics, you can also try mailing your cassette tapes to a company like GreenDisk. We've mentioned these guys before in our guide to how to declutter your living room, and they do a good job.
They'll recycle them for you and make sure that all of the materials are properly disposed of.
The Final Word
We all like a clearout from time to time, whether it's to make way for some cool upcycled furniture or perhaps to hang some trendy new sustainable clothes in the closet.
I hope this article has given you some great ideas for what to do with old music cassette tapes and VHS tapes, from making pencil holders to selling, donating, or recycling them.
You might have moved on to the digital age, but some people still like cool retro stuff. So your old songs and movies are probably more valuable than you think!
Even a broken cassette tape can be upcycled and turned into an awesome gift.
Whatever you decide to do with them, make sure you don't throw them in landfill! We have more than enough plastic waste and e-waste already, and there really is no excuse to be adding any more.
If you have any other suggestions for DIY projects or craft ideas, I'm always open to adding more to this article.
So please get in touch with your suggestions, I'd love to hear from you!