When it comes to flooring, there are a lot of options to suit every style and budget.
But, just how eco-friendly are traditional flooring options?
Many eco-friendly flooring options are available these days, and each has its own benefits and drawbacks.
In this article, I'll explore the most eco-friendly flooring options and help you decide which one is right for you!
I've covered all the usual suspects and even a few wildcards you might not have considered.
Eco-Friendly Flooring Options: Things To Consider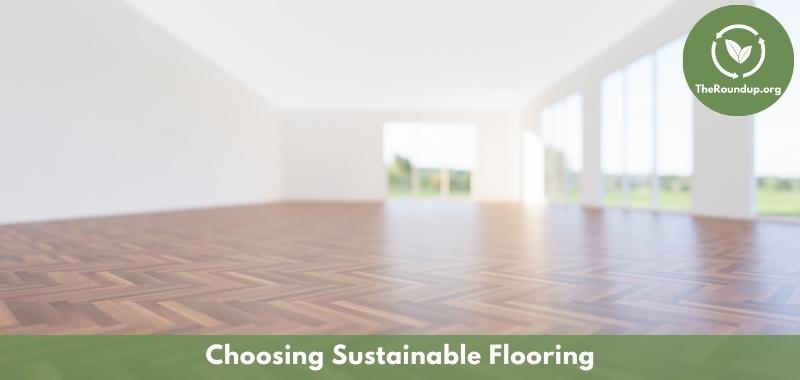 The first thing to consider is where your flooring is going to go.
What else is going to be in the room? Does it need to be hard-wearing or waterproof? What is the color scheme? What furniture items will be placed on top of the floor?
If you're planning a new eco-friendly room in your home then these guides will help:
But there are a few more things you need to look out for to make sure that you choose the most environmentally friendly flooring...
Materials
Look out for flooring made from natural materials. Ideally sustainable, recycled, recyclable, or reclaimed.
Some certifications to keep an eye out for that help give peace of mind that your flooring is made from eco-friendly and non-toxic natural materials include:
Business Ethics
You should try to only give your hard-earned dollar to companies who commit to ethical business practices.
If the company holds any of the following certifications, it's a sign that they take its responsibility to the entire supply chain seriously:
Longevity
Replacing your flooring every few years is unsustainable. Both environmentally and financially!
Choose a flooring option that will last you decades. The longer it stays down on your floor, the more eco-friendly it is.
End Of Life Options
When the time comes to replace your flooring, what happens to it then? Ideally, you want a product that can be reused or recycled.
VOCs
Volatile organic compounds (VOCs) are emitted as gasses from certain materials used in flooring.
These emissions can cause short and long-term health effects, so it's important to choose products with low or no VOCs.
Products certified as low or no-VOC usually have certifications (usually FloorScore or GREENGUARD) prominently displayed on their website or packaging.
Installation Methods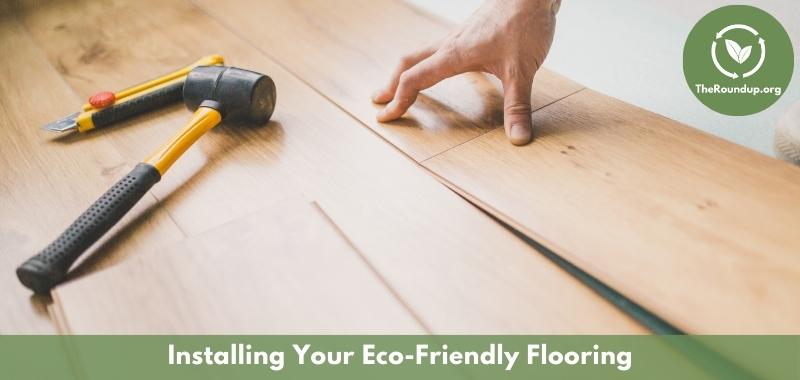 The installation method you choose can also have an impact on the eco-friendliness of your flooring.
For example, choosing a floating floor over a glued-down option means that the floor can be taken up and reused more quickly if you move house or decide to change things up in the future.
14 Of Our Favorite Eco-Friendly Flooring Options: Which One Is Right For You?
Bamboo
Bamboo is a fantastic eco-friendly flooring option because it's so sustainable. It grows quickly (full maturity in around five years…compared to over 20 years for most trees) and doesn't require any chemicals or pesticides to thrive.
Bamboo flooring is incredibly durable, making it an excellent choice for high-traffic areas. It's also naturally antibacterial, making it ideal for kitchens and bathrooms.
Finding certified sustainable bamboo is not always easy, but it's worth the extra effort to find a sustainable product.
Linoleum
Linoleum is an 'old school' flooring option that's often overlooked, but it's actually very eco-friendly. It's made from biodegradable materials like linseed oil, cork dust, pine resin, and wood flour.
Linoleum is also durable, easy to clean, water-resistant, and fire retardant, making it an excellent choice for busy families looking for safe, low-maintenance flooring.
Cork
Cork is being used in the clothing industry as a sustainable fabric, so it stands to reason that you can also use it as eco-friendly flooring.
Eco-friendly cork flooring is becoming very popular for green builds. The cork oak tree is harvested without harming the tree, so it's an entirely renewable resource.
It's fire-resistant, anti-microbial, and can even repel insects…making it an excellent option for those with allergies.
Cork floors are very comfortable to walk on, making them an excellent choice for bedrooms and living rooms.
Cork is not as durable as some other flooring options, so you might want to think twice about using it for high-traffic areas.
Tiles
Many different types of tiles can be used as flooring, including:
Recycled Glass Tiles: They're very durable and easy to clean. However, they get slippy when wet, so they might not be the best option for bathrooms and kitchens.
Stone Tiles: Stone tiles are very durable, so you won't have to replace them anytime soon. But, they can get quite cold, so you might want to consider an eco-friendly rug to make living areas with a stone tile floor feel cozier.
Porcelain And Ceramic Tiles: Porcelain and ceramic tiles are made from natural clay and minerals, making them a great eco-friendly choice. They're durable and easy to clean. Great for pet owners!
Recycled Metal Tiles: These tiles are usually made from recycled aluminum and copper and are becoming popular among eco-conscious consumers. They're also incredibly durable, so you won't have to worry about replacing them for decades.
Concrete
Concrete is a trendy flooring choice these days, and for good reason. It's durable, easy to care for, and stylish (especially when polished to a glossy finish).
Concrete is a natural product made from limestone, sand, and water. It has a small carbon footprint.
Concrete floors can help improve your home's indoor air quality as they absorb pollutants and toxins.
Hardwood
Traditional hardwood flooring is a classic choice that can add warmth and character to any home.
There are three main types of hardwood flooring:
Engineered Hardwood Flooring: Engineered hardwood is made from a plywood or HDF core with a hardwood veneer on top. The main benefit of engineered hardwood is that it's more stable than solid hardwood, so it's less likely to warp or cup over time. It's also more eco-friendly than solid hardwood because it uses less hardwood overall.
Solid Hardwood Flooring: Solid hardwood is simply a solid piece of hardwood turned into wood flooring. Solid hardwood is more susceptible to warping and cupping, but it can be sanded and refinished multiple times over the years, so it's a very durable option.
Reclaimed Hardwood Flooring: Reclaimed hardwood is wood that would otherwise end up in a landfill. Reclaimed wood has a lot of character and can add a unique touch to your home. However, it's essential to ensure that your wood flooring is sourced from a reputable company to ensure that the reclaimed wood has been properly treated and is safe for your home.
Whatever type of wooden flooring you go for, try to ensure that it comes from a Forest Stewardship Council certified forest.
Softwood
Softwood flooring is a fantastic eco-friendly choice as it's made from renewable timber.
Pine is by far the most popular choice for softwood flooring. It grows well in the U.S., so it's easy to source locally.
It's also relatively easy to install and maintain, making it a popular choice for many homeowners.
Softwood is not as durable as some of the other options in this article, so it might not be the best choice if you have high-traffic areas in your home.
However, this softness means that softwood flooring is easy to sand and reprotect when it looks worn.
Vinyl Plank
Vinyl plank flooring is popular because it's durable, easy to install, and low maintenance.
However, vinyl flooring is made from plastic, so I deliberated for quite some time whether or not to include it.
I decided to include it due to its longevity. It can last decades. This long life reduces the need to replace with new flooring and thus eliminates the emissions and resource use associated with replacing flooring unnecessarily.
There are also recycled vinyl options that take the eco-friendliness of this flooring option to the next level!
Laminate
Laminate floors have a reputation for being unsustainable and are another option I wrestled with for quite some time before deciding to include it in this article.
Modern laminate flooring has started using more sustainable and recyclable materials. UK flooring website BestAtFlooring reports that around 85% of modern laminate flooring can be recycled.
Carpet
Carpet is probably the most well-known type of flooring and has come a long way in terms of eco-credentials over the past few decades. You can now buy carpets made from natural and biodegradable fibers, such as:
These natural fibers are biodegradable and renewable, making them an excellent choice for eco-conscious homeowners.
You can also get carpets made from recycled materials, such as recycled plastic bottles or post-consumer waste.
Carpets have a few drawbacks, however. It's not the most durable option, and it can be challenging to clean. It's also not the best choice for allergies, as it can trap dust and other allergens.
Leather
Leather flooring is now a thing! Who knew?
Its construction is similar to that of engineered hardwood. However, instead of the top layer being hardwood, treated and protected leather is used.
Leather flooring is often warm and soft to the touch and has excellent sound-dampening qualities.
For leather flooring to be eco-friendly, it needs to be made with recycled or deadstock leather.
Deadstock leather is brand new leather that is left over from manufacturing another product (a leather sofa, for example) that would otherwise end up in the trash.
Rubber
Rubber is a fantastic eco-friendly flooring option for several reasons:
It's durable and long-lasting, so you won't have to replace it as often as other types of flooring.
It's also slip-resistant and shock absorbent, making it a good choice for areas with a lot of foot traffic or where there might be potential for falls. Such as bathrooms and home gyms.
You can recycle rubber, so when it does eventually reach the end of its lifespan, it won't end up in a landfill.
Nature rubber is harvested and manufactured sustainably.
There are a few things to keep in mind with rubber flooring, though:
It can be cold and hard underfoot, so it might not be the best choice for bedrooms or living rooms.
It also can't be refinished like wood floors. If it gets damaged, you'll have to repair or replace it.
Artificial Grass
My eldest daughter is crazy about soccer and bugs me at least once a week to rip up her carpet and replace it with artificial grass, so it looks like a soccer field.
Unfortunately (for her!), the carpet in her room is perfectly fine and doesn't need replacing anytime soon.
However, I can see why artificial grass is making its way inside the home. It makes a statement and looks pretty cool.
Yes, some artificial grass is made from virgin plastic, which is a big no-no in terms of sustainability.
However, if you go for a recycled option (or even buy second-hand and give a new lease of life to a product destined for landfill), it's definitely an eco-friendly option.
Composite Decking
Another product designed initially for outside but now making its way inside is composite decking.
Made from recycled plastic and wood fiber, it's a popular choice for decks and patios because it requires little maintenance and is very durable.
These qualities are also appreciated inside the house or in outbuildings.
I saved a bunch of composite decking from a local commercial project from going to a landfill last year and used it to floor my garden office/gym/man cave!
It looks good, is incredibly hard wearing, and is a breeze to keep clean.
Frequently Asked Questions
What Is The Lowest VOC Flooring?
Most of the time, floors with a nontoxic seal or finish have the lowest VOC levels. Solid hardwood floors, polished concrete, and tile flooring, for example.
The Final Word
The best eco-friendly flooring options are the ones you already have in your home. Only replacing things when absolutely necessary is a key element of sustainability.
That said, if you are in the market for new environmentally friendly flooring, there are plenty of options.
One thing to watch out for is the extra products you need to fit your flooring of choice. Make sure they're as eco-friendly and non-toxic as the flooring.
For example, buying VOC-free tiles means nothing if you then use a toxic sealant and grout.
I hope this article has helped you narrow down your choices and find the perfect flooring for your next eco-friendly refurb.
Get In Touch
What are your go-to sustainable flooring options? Have I missed your favorite? Drop me a line and let me know.