As someone who tries to make environmentally friendly decisions whenever possible, you may be wondering where you can bring your reusable water bottle.
These days, most of America's most popular attractions will let you fill up your bottle with filtered water, saving you money and helping you to eliminate plastic waste.
Different parks and venues have their own individual policies, but one way or another you CAN bring a reusable water bottle to all of the following locations.
So here's a list of where (and how) you can stay hydrated and healthy throughout your visit.
Walt Disney World, Florida
Yes, you can bring a reusable water bottle to Disney World!
Glass bottles are not permitted, but stainless steel, copper, or plastic reusable bottles are all welcome
There are limited refill stations located across the Magic Kingdom park, although these are not currently marked on the park maps. You can also request a free refill of filtered water from any counter-service restaurant.
The same applies to Hollywood Studios, EPCOT, and Animal Kingdom.
Universal Studios (Hollywood & Orlando)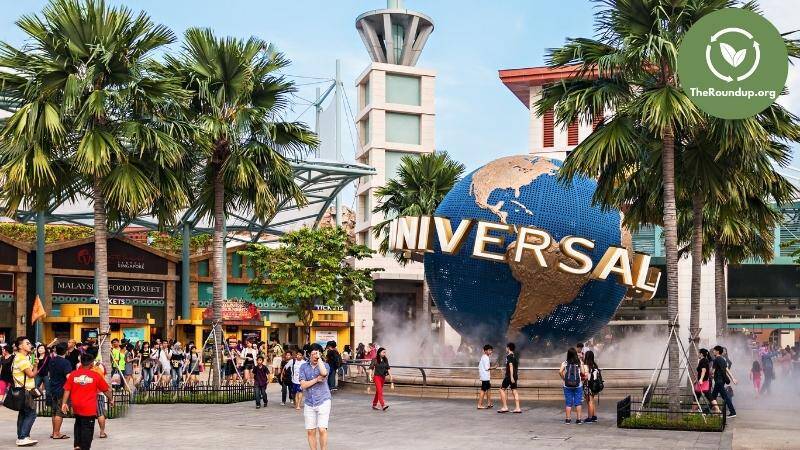 You can bring reusable water bottles into both Universal Studios Hollywood and Universal Orlando (plus Islands of Adventure).
The park rules state that they can be a maximum of 2 liters, which is more than enough for the vast majority of refillable bottles.
Staying hydrated is not an issue at Universal. Numerous self-service refill stations and drinking fountains are located around the parks, and all counter service locations will also offer you free iced water on request.
Note that although Universal Studios Hollywood does sell refillable cups, these are not eco-friendly so it's far better to take your own.
Disneyland Resort, California
Disneyland California also allows reusable bottles (provided they are not made of glass).
You can also take a small cooler in with you to keep your drinks cold if you wish.
Disneyland has water fountains outside most of its restrooms, and there are also bottle-filling stations scattered around the park.
These are shown on the Disneyland interactive park map.
Seaworld (San Diego, San Antonio & Orlando)
You are allowed to bring a refillable water bottle into Seaworld San Diego, Seaworld San Antonio, and Seaworld Orlando, providing it is made of stainless steel, copper or plastic. Glass containers are not allowed.
No other outside food and drinks, plastic straws, or coolers are permitted.
Bottles can be refilled at water fountains and drink stations throughout the park.
Legoland (California, Florida & New York)
Outside food and non-alcoholic drink are allowed in Legoland parks in the US, including reusable water bottles. You can also take in a small cooler if you wish.
As with some other attractions, glass containers are not allowed, but any other material is fine.
I must confess to being a regular at Legoland and while the parks are amazing, the food options aren't the best. So I often take in a packed lunch, including my refillable bottle.
There are plenty of water fountains around and also the concession stands will provide free iced water for refills.
Busch Gardens
You can bring your refillable water bottle to Busch Gardens, and according to the park rules, there are no restrictions on the material.
However, no other outside food, beverages, or coolers are allowed, except for baby formula or any guests with special dietary requirements.
You can refill your bottle at any water fountain or any of the self-service drink stations which can be found in all park restaurants and dining areas.
Cruise Ships
You are allowed to bring your own refillable water bottle on all cruise ships - in fact, they are encouraged. The water on board is safe to drink, so carrying your bottle with you is a great way to stay hydrated especially if you're cruising somewhere warm.
Every major cruise line I contacted said that they were happy for guests to take a refillable water bottle on board. Some of the more popular cruise lines said:
Royal Caribbean - Refillable bottles are welcome on board.
Carnival Cruise - Yes - a reusable water bottle will help you stay cool and hydrated during your cruise.
Norwegian Cruise - We've already replaced all single-use plastic bottles with plant-based cartons, which are refillable and recyclable. But of course, you are free to bring your own reusable bottle as well.
I got a similar response from Disney Cruise. Princess Cruises do not provide free bottled water but the tap water is fine to drink, so you'll be making quite a saving by remembering to bring your own bottle!
Las Vegas Strip Casinos
You are allowed to take a reusable water bottle into Las Vegas casinos. I have been several times and never had an issue carrying it around wherever I go.
If you're playing slots then there are plenty of places to put your bottle. However, if you play a table game, larger bottles may not fit into the drinks holders, so you won't be able to put it on the table - although it can still go on the floor.
There aren't many water fountains inside the casinos though - unless you can find one near some of the restrooms. However, most bartenders will be happy to fill your bottle for you. A small tip might be in order if you ask them to do this.
US National Parks
You are actively encouraged to take reusable water bottles into US National Parks, especially since the government announced that single-use plastics will be phased out on all public land.
Plastic bottles are one of the most common items of litter found in our National Parks, which harm the environment and spoil the parks for everybody.
The NPS is working to eliminate this problem. They also sell reusable bottles at many of the park visitor centers and provide filling stations wherever possible.
Water bottle stations are located in key areas throughout most major national parks, including Zion, Big Bend, Grand Canyon, Yellowstone, Acadia, and Yosemite.
Six Flags
Six Flags parks do not allow you to bring in any coolers or outside food and beverages.
However, you can take your reusable water bottle in with you, as long as it's empty.
You can then fill your bottle at the drinking fountains which are located outside the majority of the restrooms around the park.
Concert & Sporting Venues
You should be allowed to bring your reusable water bottle into virtually all concert and sporting venues in the US. However, many venues would insist that the bottle is empty.
As with the other attractions I've listed here, the best practice is to drink the contents or empty out your bottle before you enter the stadium, then refill it at a drinking fountain inside.
Bars and concession stands will usually fill your bottle for you as well, but the lines for the fountains are usually shorter!
San Diego Zoo
San Diego Zoo permits guests to bring in their own food or drinks, but no coolers or glass containers are allowed.
That means that stainless steel reusable bottles are fine, but glass ones are not.
You are also not allowed to bring in straws.
There are water fountains located inside the park, but not outside.
Great America, California
You are not allowed to take any outside food or beverages into California's Great America, with the exception of sealed bottled water.
Obviously, you have no way to seal your refillable water bottle. But there is no issue with taking your empty bottle in with you, and filling it inside. Just look out for water fountains near the restrooms.
Knott's Berry Farm
Knott's allows empty water bottles to be brought into the park, or unopened single-use bottles (but please don't!). But no other outside food or drink is allowed according to their website.
In reality, I have heard of many people taking various snacks and foodstuffs in their backpacks without any issues. But strictly speaking, their policy does prohibit this so you may be asked to leave them behind in a locker if you are unlucky.
The Final Word
Given that you can take a refillable bottle on a plane, there really is no reason for top US parks and attractions to deny them, so it's good to see that so many are doing the right thing.
With all of these great places to fill up your reusable water bottle for free, there's really no excuse not to ditch single-use bottles for good.
If you're looking for the best eco-friendly water bottles out there, check out our list of favorites.
We've rounded up a bunch of different options so you can find the perfect fit for your lifestyle and budget.
Have I missed your favorite attraction, or are you planning to visit somewhere new and want to see it added to the list? If so, get in touch and let me know!
Until then, enjoy your trip, and don't forget to take your bottle along for the ride…