Carbon dioxide is one of the most potent greenhouse gases and causes climate change. It is a natural occurring chemical compound, but the amount that has been released into the atmosphere in recent years is unprecedented. The effects of global warming are all around us, including more intense storms, more frequent wildfires, and rising sea levels.
Greenhouse gases are emitted when we combust fossil fuels such as coal or natural gas for energy use in power plants and vehicles. These gases trap heat near Earth's surface which affects the climate by increasing global temperatures.
We all know the theory, but what about the facts? What drives these emissions, what harm do they do and what can we actually do about it?
In this article, I am going to talk about some key statistics related to air pollution, carbon dioxide and greenhouse gas emission rates in the United States.
US Greenhouse Gas Emissions
China And The United States Emit More Carbon Dioxide Than Any Other Country
China's coal consumption has increased significantly over the last decade, leading to an increase in their emission levels of around 25% during that period.
China now produces more than twice as many emissions than the United States, which remains the second largest emitter in the world.
The US Has Produced More Carbon Dioxide Than Any Other Nation In History
Although China is currently the largest Co2 polluter, the USA remains the largest cumulative emitter in history.
Since the industrial revolution, the USA has produced in excess of 410 billion metric tonnes. China is second with nearly 220 metric tonnes, followed by Russia (113) Germany (92) and the UK (78).
US Greenhouse Gas Emissions Peaked In 2007
Between 1990 and 2007, US greenhouse gas emissions grew by more than 15%, peaking at 7,450 MMtCO2e (million metric tons of carbon dioxide equivalent) in 2007.
However, since then emissions have been on the decline, thanks to a move towards cleaner renewable energy sources.
There is still much work to do. There were still 6,558 MMtCO2e emitted in 2019. But things are at least moving in the right direction, albeit not quickly enough. Joe Biden has promised that by 2030, emissions will be at least 50% less than 2005 levels. But a more ambitious target from all industrialised countries is needed to avoid a global climate crisis.
Air Pollution Statistics
Particulate Matter Emissions In The USA Are Falling
The air pollution levels in the U.S. (measured by PM2.5 levels) has in fact reduced by almost half since the year 2000.
Particulate matter, or PM is a complex combination of extremely small particles found in the air. Some are emitted directly from a source, such as dust from construction sites and vehicle exhaust. Others form in the atmosphere when other types of air pollution react or combine.
Particulate matter is one of the main causes of deaths related to air pollution in America today.
Air Pollution Deaths Are Reducing
The EPA estimated that, in the United States in 2018, 13% of deaths were caused, at least in part, by the inhalation of fine particulate matter that is created by burning fossil fuels.
However, over the last 30 years, the number of people who have died from air pollution in the United States has gone down. In 1990, an estimated 103,700 people died because of air exposure. By 2019, despite a slight increase from 2017 levels, this figure had fallen to 60,200.
California Has The Most Polluted Cities
California was the most polluted US state in 2020, based on PM2.5 concentration levels. This is because of wildfires that ravaged the area during that year. The smoke from the fires comes into many cities and leaves them exposed to high levels of air pollution.
Yosemite Lakes, Springville and Susanville were the worst 3 cities. Yosemite Lakes had nearly 4 times the target level of PM2.5 as specified by the World Health Organization.
Causes of Greenhouse Gas Emissions In the USA
Most Greenhouse Gas Emissions Come From The Energy Sector
According to the latest data from the EPA, the energy sector is responsible for around 82% of the total Greenhouse gas emissions in the United States.
Emissions from the energy sector peaked in around 2005, and have fallen back slightly since.
In 2019, the energy sector was responsible for some 5,392 million metric tons of carbon dioxide equivalent (MMtCO2e). This is around the same as 1990 levels, but is no longer seeing any significant reduction year on year.
Fossil Fuels Lead The Way
Power Plants (1667 million metric tonnes), Oil & Gas (340 MMT) and Refineries (177 MMT) are the three highest sources of greenhouse gas emissions in the United States.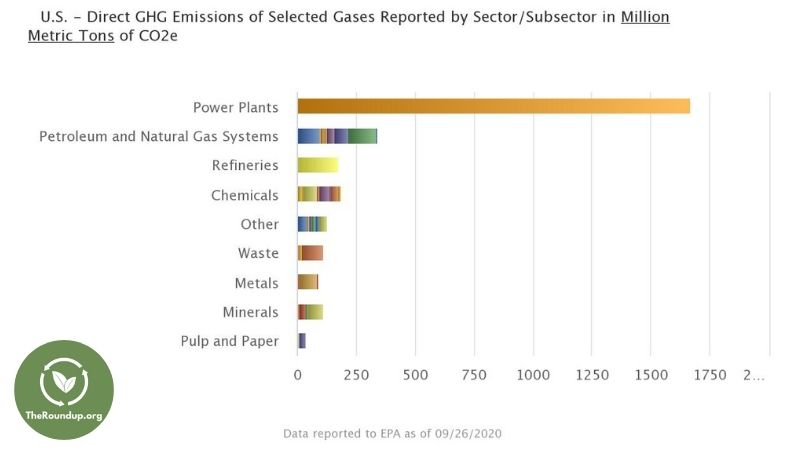 Natural Gas Emissions Increase While Coal Dependency Declines
In 1990, the U.S. had 1.1 billion metric tons of energy related emissions from natural gas and by 2018, it had reached 1.7 billion metric tons, or an increase of 50%.
Coal has been steadily declining over this time with only 1.1 billion metric tons of emissions in 2018 which is less than half of coal's peak in 2000 with 2 billion metric tons of energy related carbon dioxide emissions at that time.
This decline is due to coal having a smaller share in the power mix for electricity production as people move away from it because it pollutes more than natural gas. At the same time, renewables like wind and solar are becoming more popular sources for power generation as awareness of climate change increases globally.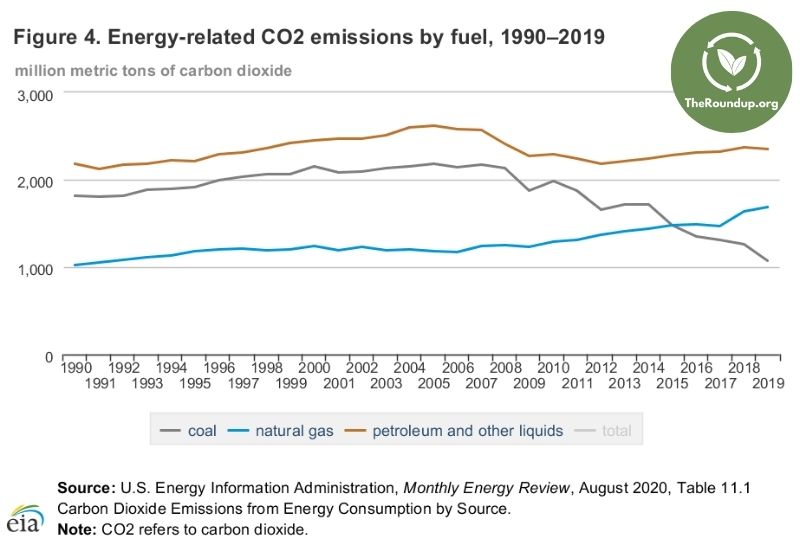 Transport and Electricity Generation Need to Go Greener
Transportation (1.8 billion metric tons) is the biggest source of CO2 emissions from fossil fuels, and electricity (1.6 billion) is not far behind.
If these two sectors can reduce their fossil fuel dependence, it will have the largest impact on overall greenhouse gas emissions in the US.
Energy Companies Emit The Most Greenhouse Gas
Given what we have already learned, it's not surprising to learn that the biggest emitters come from the energy sector.
Vistra Energy (119 million metric tons), Duke Energy (99 million) and Southern Company (97 million) top the list of companies that were responsible for emitting the most greenhouse gas in 2018, according to a study released in 2021.
This is because these companies rely heavily on coal fired power stations for their electricity generation. Vistra has at least announced an intention to close some of its coal burning plants by 2027 and replace them with renewable energy sources.
The Final Word...
We've provided some statistics on air pollution, CO2 and GHG emissions to provide you with the information about how your lifestyle choices are impacting our planet.
Whether that be as simple as changing a lightbulb or buying more eco-friendly products, we hope these numbers will help motivate you to make small changes in your daily life so that together we can reduce carbon footprints.
Do any of these stats surprise you? If not, what do they tell us about the current state of global warming? How does this affect future generations if nothing is done now? Let us know!
References