The aviation industry is a major contributor to global greenhouse gas emissions which cause climate change.
But some airlines are doing what they can to be more sustainable and eco-friendly, and reduce their environmental impact.
Today we look at the most sustainable airlines in 2022 and what they are doing to improve their eco-friendliness.
If you're interested in ethical travel then this is definitely something you need to know.
Which are the 14 Most Eco-friendly Airlines?
But what do the most eco-friendly airlines have in common? They are trying to reduce their impact on the environment by doing one or more of the following:
Reducing carbon emissions
Becoming more fuel-efficient
Investing in greener, more sustainable fuel types
Reducing plastic usage and food waste
So let's look at which airlines made the list, and why.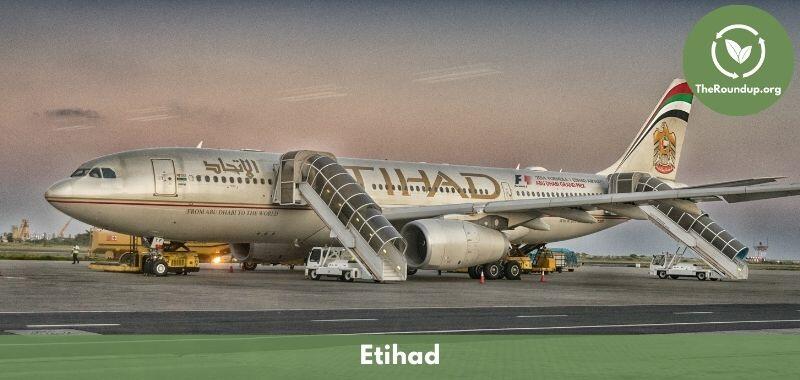 Etihad
Etihad has pledged to reach net-zero carbon emissions by 2050 and is working on a range of green initiatives to help achieve this.
Etihad Airways has partnered with a number of organizations to help reduce its carbon footprint. These partnerships have helped the airline test and implement measures to reduce fuel consumption, carbon emissions, and noise.
For example, Etihad worked with Boeing to test and implement measures such as using a blend of sustainable aviation fuels in its aircraft. Additionally, Boeing engineers used the delivery flight of Etihad's "green-themed" Boeing 787 to research new fuel efficiency measures.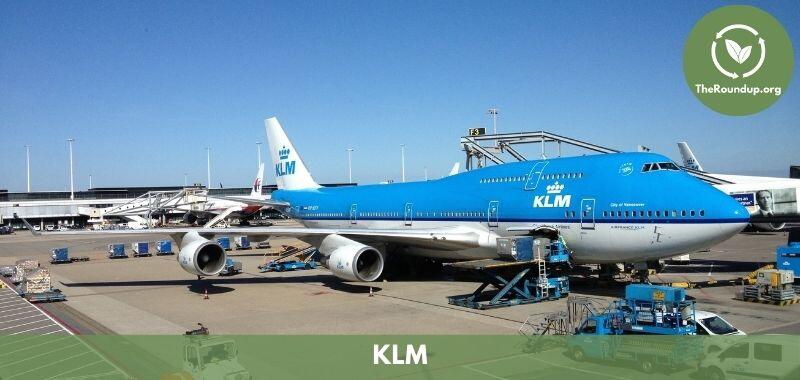 KLM Royal Dutch Airlines
KLM is one of the most sustainable airlines. It has pledged to reduce its carbon footprint by 15% by 2030. KLM also joined other airlines in a goal to reduce emissions by 2020.
KLM has been doing its part to reduce energy consumption since 2008 by making changes in its ground operations. For example, they have improved the system of baggage handling, which has reduced the weight of luggage by 10%.
Also, they have worked with airlines around the world to reduce fuel usage during taxiing at airports. They are also among the pioneers of eco-driving training for aircraft captains. KLM was also one of the first carriers to be ISO 14001 certified
Alaska Airlines
Alaska Airlines is already one of the most fuel-efficient airlines in the world.
It uses advanced navigation systems to reduce the number of miles covered on its flights. It also uses what is known as split scimitar winglets - a unique design on the wingtips of its aircraft which are known to improve fuel efficiency.]
In addition, Alaska Airlines has recently announced that it will use sustainable biofuel to power all flights to and from Seattle-Tacoma International Airport. The move is part of a partnership with the Port of Seattle and Boeing, known as the Greener Skies Program.
Cathay Pacific
Cathay Pacific has invested significantly in becoming an environmentally friendly airline. It recently announced it was upgrading its fleet, adding six Airbus A350s which offer improved fuel efficiency.
They have also transitioned to paperless cockpits, set out a plan to reduce single-use plastic waste, and introduced plant-based meals in an attempt to reduce their carbon footprint.
Their "Fly Greener" program encourages passengers to buy carbon offsets to mitigate the fuel emissions for their flight.
Air France
Air France is part of the KLM group and therefore shares in the vision to become the world's most environmentally friendly airline.
They are leading the way in transitioning from traditional high carbon jet fuel to biofuels which have the potential to reduce the emissions of carbon dioxide and greenhouse gases by as much as 80%.
They also have a scheme to encourage passengers to take rail journeys instead of domestic flights.
Delta Air Lines
As a member of the International Air Transport Association (IATA), Delta Air Lines is committed to reaching the internationally agreed airline industry targets of carbon-neutral growth from 2020, and a minimum 50% reduction in net aviation emissions by 2050.
Delta appears on track to meet those targets, although this is largely due to a significant investment in carbon offsets.
It is also eliminating single-use plastic from its flights, and investing $1 billion between now and 2030 in the research and implementation of clean air technology.
American Airlines
American Airlines has made a sizeable investment in renewing their fleet, including the purchase of 50 new fuel-efficient Airbus A321XLR planes.
Through its partnership with Cool Effect, American Airlines helps to provide customers with the option to carbon offset their flight.
Initiatives such as paperless cockpits, single-engine taxiing, and winglets to reduce fuel use all contribute towards the increasing eco-friendliness of this giant of international aviation.
United Airlines
United Airlines states that the company is committed to implementing policies to reduce its environmental impact. They claim that there has been a significant reduction in carbon emissions from their aircraft, due to new technologies and operational procedures.
In June 2019, United launched what they called a "flight for the planet," which was advertised to be the most environmentally friendly air journey of all time. The idea was to incorporate all aspects of this flight into future air travel.
They also have a goal of working towards a 50% reduction in carbon emissions by 2050 compared to 2005 levels, which they stated in a 2018 Sustainability Report.
JetBlue
JetBlue is currently reducing emissions by investing in new planes that are 20% more fuel-efficient than the average aircraft. JetBlue is also committed to improving its current fleet of 170 Airbus A320-family aircraft, which will prevent nearly 550,000 metric tons of co2 emissions annually.
Jetblue has received multiple environmental awards for its efforts towards sustainability and eco-friendly initiatives, including being awarded the Airline of the Year title by Greenopia.
British Airways
British Airways is reducing cabin waste by providing amenities made from recycled materials such as plastic bottles.
British Airways is also looking into renewable energy. The company has announced that it plans to build a biofuel plant that will turn everyday household and commercial waste into fuel
BA predicts that their biofuel plant will convert more than 500,00 tonnes of waste per year into usable jet fuel.
Virgin Atlantic
Virgin Atlantic is progressively rolling out a green fleet by purchasing 14 Airbus A320s from the latest 'neo' generation, which will see them become more 13% fuel-efficient, while also cutting airport noise pollution in half.
It has invested in new computer software which will identify opportunities to use less fuel throughout its flights. It is anticipated that this will reduce Virgin Atlantic's annual co2 emissions by 100,000 tonnes.
The airline has also agreed to a deal to purchase 2.5 million liters of Sustainable Aviation Fuel (SAF), as part of its overall goal to use 10% SAF by 2030.
EasyJet
EasyJet is another operator that is investing in upgrading their fleet with the Airbus neo aircraft.
They are committed to net zero emissions by 2050, and in 2019 became the first airline in the world to offset carbon emissions for the fuel used on every one of their flights.
EasyJet states that they believe they can begin operating flights powered by renewable sources such as hydrogen electric or hydrogen combustion, at some point in the 2030s.
Air Canada
Air Canada was the first airline in North America to offer biodegradable takeout containers on flights, as well as recycled paper for inflight entertainment.
It also has a carbon offset program that it offers to its customers. Air Canada is investing $13 million over the next three years to retrofit its fleet of aircraft with the latest available technology for monitoring emissions, investing $150 million to reduce them as much as possible.
Xiamen Airlines
It's rare that we praise Chinese companies on TheRoundup, they're not exactly known for their environmental activism.
They haven't done as much as the other eco-friendly airlines we've already listed, but Xiamen is at least making an effort to start flying green.
They operate themed flights that are designed to raise awareness of environmental protection issues. In 2017 they made a commitment to support the United Nations Sustainable Development Goals (SDGs).
What are Sustainable Airlines?
Sustainable Aviation is a long-term strategy for addressing the challenges of ensuring a cleaner, cleaner, quieter and safer future.
Eco-friendly airlines are trying to achieve this in different ways. Those that made the list above have implemented one or more of the following strategies to reduce their environmental impact.
Lower Carbon Emissions
If air travel is ever to be sustainable, it is vital that carbon emissions are drastically reduced. Any effort to do this makes an airline more sustainable. The following two strategies are good examples of the way in which some eco-friendly airlines are tackling this issue.
Use More Sustainable Aviation Fuels
Many of the airlines listed above are exploring ways to replace fossil fuels with more sustainable fuel sources. Flights need to be partly or fully powered by SAF at some point into the future, and the sooner the better.
Improve Fuel Efficiency
It stands to reason that when aircraft are more fuel-efficient, their carbon emissions will be lower. This can be achieved by investing in newer, more eco-friendly aircraft, or by upgrading an existing fleet.
There are also technological improvements, such as smart software to monitor and reduce fuel usage.
Serve Eco-Friendly Food & Drinks
The eco-friendliness of an airline is not only determined by its carbon emissions. Paper and plastic waste from in-flight meals, drinks, and travel kits also have a huge impact. Many airlines are looking to address these issues.
Use Carbon Offsets Where Appropriate
There are mixed opinions amongst environmentalists regarding whether carbon offsets are a good idea. But most people agree that, while they can never be relied upon as a solution to aviation's carbon footprint, they are better than nothing.
What are the Most Eco-Friendly Planes?
In terms of individual aircraft, a general rule is that newer planes tend to be more eco-friendly than older ones, mainly because they were designed with fuel efficiency in mind.
Boeing 787-8 and 787-9, also the 737 MAX (currently under FAA review due to safety concerns)
Airbus A320 neo family and A350-900
The aircraft model is not the only factor that determines the eco-friendliness of an airline, but those that renew their fleets with these newer fuel-efficient aircraft are more likely to be able to reduce emissions.
How to Fly More Sustainably
The best way to help the environment is to fly less often. Whatever you or the airlines do, there is no getting around the fact that air travel, in its current form, is bad for the planet.
That said, here are a few tips you can follow to lessen your impact.
Choose from one of the most eco-friendly airlines listed above
Travel in economy class
Take a non-stop route where possible
Do not use any disposable, single-use plastic when onboard
Pack your luggage as light as possible
Purchase carbon offsets for your flight
But most importantly, ask yourself whether you really need to take that flight in the first place!
The Final Word
It's important to be mindful of the environmental impact that airlines have. The aviation industry is a major contributor to global emissions, and that's unlikely to change any time soon.
However, some airlines are doing what they can to reduce their impact on the environment, with sustainable practices like recycling plastics onboard flights and using biofuel in their planes (which also happens to help them save money).
There's still more work needed if we want all airplanes to be as environmentally friendly as possible, but these steps taken by eco-friendly airlines show us how much progress has been made already!
If you're looking for ways to become more sustainable - even if it doesn't involve airplanes - be sure to check out our article on how to be more eco-friendly.