Your fancy new green mattress was probably a significant financial investment, and you're now looking to protect that investment as best you can.
In my Best Eco-Friendly Mattress Protectors (100% Organic Materials) article, I tested a wide range of mattress protectors and recommended my favorite six.
It's proven to be a viral article, and not a day passes when we don't get at least one question sent to TheRoundup HQ about mattress protectors.
The most common question is, "what is the best material for a mattress protector?"
Well, that depends on your needs and preferences.
I briefly covered the best mattress protector materials in the abovementioned article, but I now feel it deserves an article all of its own.
Read on as I drill down further into the pros and cons of different materials so you can make an informed decision about which protector is suitable for you.
The Best Materials for a Mattress Protector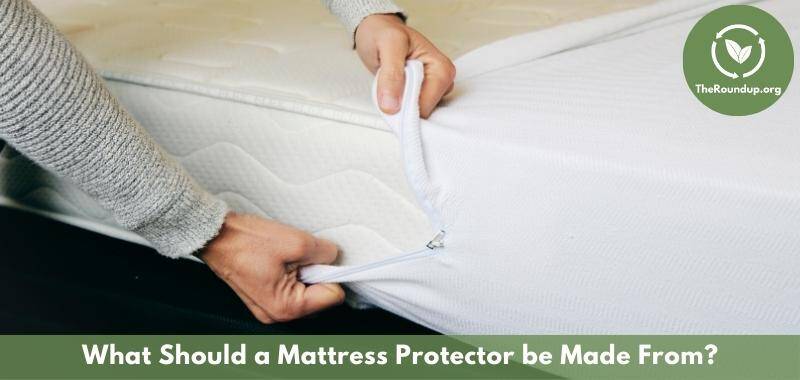 Cotton
Cotton is still the most commonly used material for protecting your new mattress.
It's a natural fiber that's breathable and soft yet durable enough to withstand regular washings.
Cotton is also a pretty good insulator, so it will regulate your body temperature as you sleep. Although, if temperature regulation is critical for you, then you might want to read on for other options that are even better.
Regular cotton is considered a dirty crop due to the number of pesticides and other chemicals used to grow and manufacture it. It also needs a great deal of water.
So, to be genuinely sustainable, choose organic cotton ahead of regular cotton.
Bamboo
Bamboo is a grass, not a tree, and is one of the most sustainable plants in the world. It grows quickly and doesn't require any pesticides or chemicals to prosper.
Bamboo is also naturally antibacterial and hypoallergenic, making it an excellent choice for those with sensitive skin.
On top of that, bamboo is highly breathable with excellent moisture-wicking properties. It'll keep you cool and comfortable all night long.
One downside to bamboo fabric is that it's not as durable as other materials used in mattress protectors. But if you take good care of it, a bamboo mattress protector should last for years.
However, the world of bamboo fabric is also not quite as straightforward as you first think.
Yes, natural bamboo is a wonderful product, but some manufacturers manufacture it in such an unsustainable way that the final bamboo fabric product is not as eco-friendly as they would have you believe.
They will then try every greenwashing trick in the book to convince you otherwise.
My Is Bamboo Eco-Friendly article covers everything bamboo in much more detail if you'd like some further reading.
Linen
Linen, made from the flax plant, is another sustainable fabric option for your mattress protector.
Like bamboo, linen is breathable and temperature-regulating. It's also hypoallergenic and antibacterial.
However, linen is more durable than bamboo, so you can expect it to last longer.
Linen can be a bit pricey. But, if you're looking for the best of the best, it's definitely worth the investment.
Polyester
Polyester is a synthetic fiber, so it's not as sustainable as some other materials on this list.
However, recycled polyester is now a popular mattress protector material, which is much more sustainable than virgin polyester.
Polyester is highly durable and has excellent natural water repellent properties. Perfect qualities for a mattress protector.
Polyester isn't as breathable as other materials on this list. So, if you tend to get hot at night, you might want to look for something else.
Featherbed
Featherbeds are a more traditional option for a mattress protector. They're made from, you guessed it, feathers.
Down feathers are the most popular type of feather to use, as they're soft and lightweight. However, they can be pretty pricey.
If you're looking for a more budget-friendly option, you can also find featherbed mattress protectors made from feathers that are a little coarser.
Featherbed mattress protectors are not the most durable and must be fluffed up regularly to maintain their shape.
Lyocell/Tencel
Lyocell/Tencel is a relatively new fabric on the market. It's made from eucalyptus tree pulp broken down into cellulose fibers.
It produces an extremely soft and breathable fabric, making it an excellent choice for those who tend to get hot at night.
Tencel is the brand name owned by Lenzing AG. Lyocell is the generic name of the production process and the fiber that it produces.
Plush Velour
Plush velour is a super soft fabric made from polyester, cotton, or a blend of the two. It has a short pile, which makes it soft and fuzzy to the touch (similar to velvet).
Mattress Protection Types
There are different types of mattress protectors available, depending on what you're protecting from:
General Wear And Tear: A basic mattress cover will do the job
Liquids And Spills: You need a waterproof fabric or an added waterproof layer
Allergies: If you're trying to avoid dust mites, bed bugs, pet hair, etc., then you need a protector that fully encases your mattress
Comfort: If you're number one need is comfort, you should be looking at mattress toppers rather than protectors
Mattress Protector Fixings
There are three types of mattress protector fixings:
Elastic Straps: Sits on top of the mattress and is held in place by elasticated corners.
Fitted Sheet: Held in place by strong elastic around the bottom of the protector. Covers the top and the sides of the mattress.
Full Encasement: Secured by a zipper and encases the entire mattress (top, sides, and bottom). Often used for dust mite and bed bugs treatment.
Waterproof Mattress Protectors
One of the most sought-after features of a mattress protector is it being water-resistant - especially if it's going on a crib mattress or the bed of a young child.
If you're looking for a waterproof mattress protector, make sure to check the product details. The two most common waterproofing materials used are polyurethane and PVC.
Polyurethane is the best waterproof material choice because it's durable, breathable, and non-toxic. It allows air to circulate while protecting the mattress from spills and stains.
PVC is another common waterproofing material, but it's not as breathable as polyurethane. If you live in a warm climate or tend to sleep hot, you might want to avoid PVC. There are also off-gassing issues to consider.
How To Wash Your Existing Mattress Protector
Whatever material you go for, always check the label as not all mattress protectors are machine washable.
If machine washing, I recommend using the cool cycle and eco-friendly laundry detergent.
For more tips on keeping your mattress protector in tip-top condition, check out our guide on How to Wash a Mattress Protector the Easy Way.
Frequently Asked Questions
What Are Cooling Mattress Protectors?
A cooling mattress protector is made with a material that helps to regulate body temperature. They're designed to wick away sweat and heat, keeping you cool and comfortable all night.
What's The Difference Between Mattress Pads, Protectors, And Toppers?
A mattress protector is a thin, lightweight cover that goes over your mattress. A mattress pad is thicker than a protector and usually has a quilted top.
A mattress topper is the thickest option and sits on top of your mattress like a blanket. They often contain extra cushioning, such as memory foam.
How Long Should A Good Mattress Protector Last?
In my experience, mattress protectors need replacing approximately every two years.
However, this depends on how often you used them and the quality of the materials used. If in doubt, reach out to the manufacturer.
The Final Word
So there you have it.
I hope this article has helped you understand the different types of mattress protectors available and how to choose the best one for your needs.
Get In Touch
Do you use a mattress protector? What type of other mattress covers do you use? Do you slash out on a premium protector or make do with a budget model?
What's your favorite material for bedtime temperature control? Drop me a line and let me know.